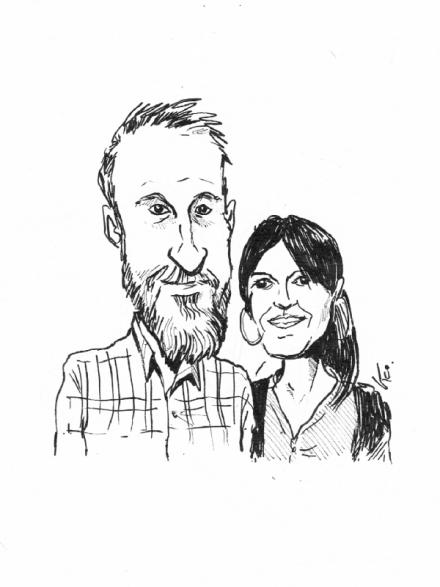 Ennio and Mena were brought together by wine. Despite coming from different backgrounds and areas of Campania, both their families have been in wine for generations.
Ennio's grandfather was a winemaker in the province of Caserta. Here he grew Asprinino, which he pressed and kept in a big limestone cave dug under the family house. Mena was born in Torrecuso, a small village close to Benevento, located 420 meters above sea level, where the grapes Aglianico and Falanghina are the two most important in the DOC. It was in this small village, in the cellar of Mena's grandfather, that they began producing wine under the name Canlibero. The name of the winery is a paraphrase of "San Libero" (San Liberatore), protector of Torrecuso, and the place where Ennio and Mena got married. It also refers to the term "maverick" (cane libero, in italian: free dog is an unorthodox or independent-minded person) and a tribute to their dog, Brando, who also appears on their labels.
Ennio and Mena produce terroir driven wines, and as much as the wines refelect the area, they also reflect ethics and the personalities of those who produced it.
For them, wine is spiritual nourishment, but to give it emotions and feelings it needs to be done with awareness.
The vineyard is managed and cultivated biodynamically, which implies the use of green manure and biodynamic preparations. The grapes consit of Aglianico, Falanghina and Trebbiano, all from fifty-year-old vines. The grapes are picked by hand and the fermentations begin spontaneously without adding any cultured yeast. The most radical action is their strive for working completly without sulphur in every stage of the winemaking.